New for 2022
We now have the following lids available for all our litter / trash bin receptacles.
There are many reasons for obtaining a Lid. There are the usual litter / garbage containment and rain protections issues, but they can also act as a deterrent for placing a package or rucksack inside a bin.
---
DSEI Media Coverage of the Door Breaching Grenade….
Video footage showcasing the award ceremony..click here
DSEI 2021: Lacroix, Energetics and Ploughshare recognised by Dstl for new 40mm breacher grenade
Grenade developed in partnership between Dstl and industry is tailored for accurate and effective door breaching. Energetics Technology Ltd (ETL), a UK subsidiary of Etienne Lacroix Group, Lacroix Defense and Ploughshare Innovations received awards at DSEI 2021 from the UK Defence Science and Technology Laboratory (Dstl) for their work on a new 40mm door-breaching round. Presenting the awards, DSTL CTO Prof Andy Bell described the grenade as 'filling a gap in the market in terms of efficacy and safety'. The new 40mm grenade utilises UK government-developed breaching technology which has been licensed to ETL and Ploughshare, in an agreement that will improve operations of the explosive entry method and operator safety. The stand-off breaching grenade is designed for use by special operations teams and counter-terrorism units in scenarios where it is necessary to break through locked doors to gain access to a building or room. Speaking to Shephard, ETL MD Peter Jemmett described the round as an 'additional tool for entering buildings with a known threat inside'. He added that it was designed to minimise risks to personnel and cause as little damage as possible to a structure beyond the breaching effect. The grenade design focuses blast overpressure towards the target to deform the door structure, as opposed to conventional impact detonation methods. Jemmett further noted that the 280g 40x51mm grenade was fully compatible with standard 40x46mm launchers and was accurate out to ranges of 40m, and can be safely used at 12-15m. The grenade is currently undergoing trials with operators in its intended specialist user community and is ready for manufacture.
---
Energetics Technology Lacroix Defence join forces at DSEI
DSEI 2021 sees companies under the Etienne Lacroix Group – Energetics Technology Ltd and LACROIX Defense offering access to world-leading counter-measure technologies through an established UK supplier base. The show also offers the platform to unveil new devices, to demonstrate business synergies and to highlight their complementary products portfolio to the UK market. British company Energetics Technology Limited (ETL), a subsidiary of the Etienne Lacroix Group, take advantage of DSEI 2021 to formally present its latest innovative 40-mm "door breaching" ammunition.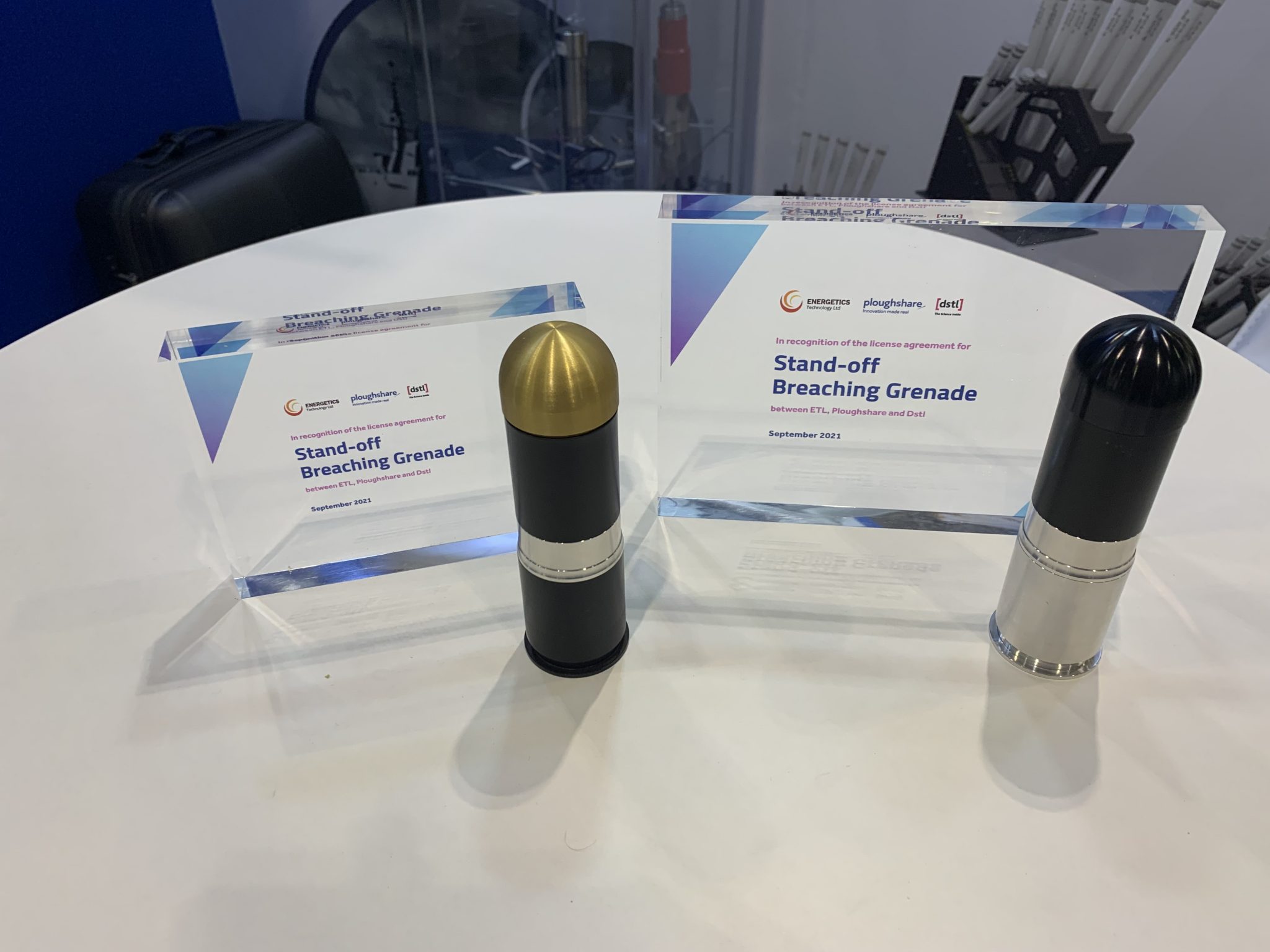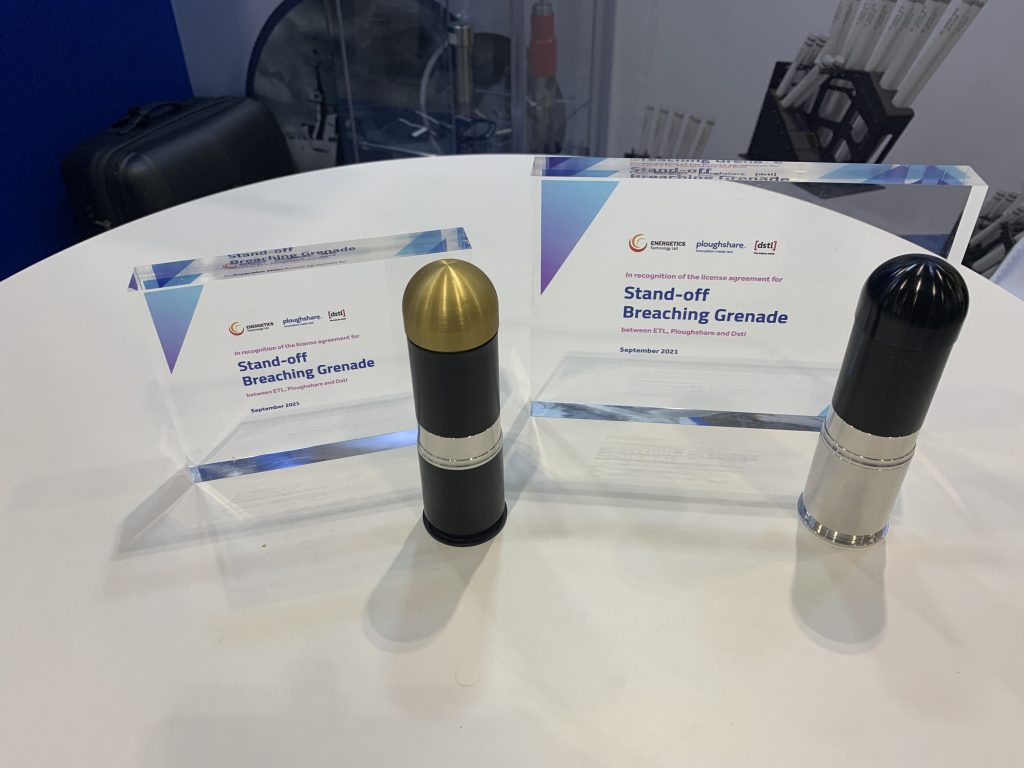 Energetics specialises in the fields of pyrotechnics, energetic materials and explosives, the company has developed a 40-mm armour-piercing grenade technology in partnership with Defence Science and Technology Laboratory (DSTL) and Ploughshare Innovation. Today at the show, ETL received an award for the development of this innovation from DSTL at Lacroix's stand. The new 40-mm grenade developed by ETL, utilises UK government developed breaching technology which has been licensed to ETL and Ploughshare Innovations, in an agreement that will improve operations of the Explosive Entry Method (EMOE) and operator safety.
The stand-off breaching grenade is designed for use by special operations teams and counter-terrorism units in scenarios where it is necessary to break through locked doors to gain access to a building or room.
—shp/adj/aaa (Photos: Lacroix)
---
---
Come and Meet LACROIX Defense at DSEI 2021.
During DSEI 2021, LACROIX will be featuring:
Its latest-generation infrared and radar decoys in the Air field domain.
To cope with the new and growing missile threats (including the latest generation "Manpads"), LACROIX's skilled Air Countermeasures are a combat-proven self-protection solution operated by most armed forces. LACROIX designs state-of-the-art decoys (infrared and electromagnetic radar) that equip numerous fighter and transport aircraft and helicopters for training and operations.
Naval self-protection systems SYLENA
LACROIX will present its naval range of decoy launching system (DLS. ) LACROIX supplies the world's leading navies with its SYLENA launching systems. Systems using state-of-the-art corner reflector technology capable of defeating the latest generation of radar missile self-directors, as opposed to other DLS using outdated aluminized glitter technology ("chaff").
Find out more about our solutions : https://www.lacroix-defense.com/our-solutions.php
Join LACROIX Defence & Energetics Technology Teams on our new own virtual & 3D DSEI platform
As you have probably already read in the press, due to the new health regulations, DSEI 2021 will be different.
It's both a live event in London AND a virtual event. For those who cannot join us in person, the DSEI Connect virtual event platform will enable you to fully participate remotely. Due to the context, and our eagerness to showcase our products, our Team is setting up this new 3D dedicated platform. Our virtual showroom will be reserving for our customers, partners and various associates within the Defense community… another way to disclose what should have been presented to you in London.
Follow us on our linkedin accounts to know more & connect https://www.linkedin.com/company/lacroix-defence-&-security/
---
14 – 17 September 2021
EXCEL – LONDON
Energetics Technology Ltd & LACROIX Defense will be in Hall 2, sharing Stand 528. Located in the UK Pavilion.
About DSEI – DSEI connects governments, national armed forces, industry thought leaders and the entire defence & security supply chain on a global scale. With a range of valuable opportunities for networking, a platform for business, access to relevant content & live-action demonstrations, the DSEI community can strengthen relationships, share knowledge and engage in the latest capabilities across the exhibition's Aerospace, Land, Naval, Security & Joint Zones.
Product and Subsidiaries Focus:
"DSEI 2021 provides the opportunity to showcase both Etienne Lacroix Group entities (Energetics Technology Ltd & LACROIX Defense), which offer access to world-leading countermeasures technologies through an established UK supplier base. It also offers a platform to unveil new devices, to demonstrate business synergies and to highlight their complementary products portfolio to the UK market."
---
---
Safer and More Effective Explosive Door Breaching Technology Brought to Market by UK Company
A new breaching grenade technology developed by the UK Government has been licensed to Energetics Technology Limited (ETL) in a deal that will improve Explosive Method of Entry (EMOE) operations and improve safety for operatives.
UK-based ETL, a specialist in energetic materials and blast products, has taken a licence for a 40mm stand-off breaching grenade technology developed by the Defence Science and Technology Laboratory (Dstl). The deal was brokered by Ploughshare Innovations in its role as the MOD's Technology Transfer Office.
The Stand-off Breaching Grenade is designed for use in scenarios where there is a need to breach locked doors to gain access to a building or room. It is particularly advantageous for operations in built-up urban environments and use within buildings and other confined spaces where current door breaching rounds cannot be deployed safely.
The design, developed over several years of research by Dstl, can deform a variety of door materials – including multi-lock steel doors – to enable access by the breaching team. The improved directional control of the explosive blast lowers the risk to the breaching team and reduces their stand-off distance. Fragmentation effects behind the door are also minimised which reduces collateral damage.
Because the blast can be highly targeted, a reduced amount of explosive can be used. This reduction in Net Explosive Quantity (NEQ) makes the grenades less hazardous to use, handle, store and transport than conventional alternatives.
Defence Minister Jeremy Quin said:
"The development of this technology is a great example of how Defence collaborates with industry and academia to promote innovation. The UK's commitment to Defence Innovation is steadfast, signified by the MOD's £6.6 billion commitment to Research and Development over the next four years.

"Supported by our investment into research, science and technology, this cutting-edge design delivers vital improvements for users across a range of environments."
Nick Joad, Director MOD Defence Science & Technology (DST), said:
"The Defence S&T Strategy and the Defence and Security Industrial Strategy both place significant emphasis on the positive partnerships between industry, academia and government.

These linkages enable us to make the most of the increased spending in research and development through the latest Spending Review. They also contribute to wider Government objectives by encouraging local investment and employment, increasing local prosperity across all the regions and nations of the UK.

The licensing of this technology is a great example of research driving into capability, which will directly benefit our armed forces, as well as the contribution it provides to the local community in Derbyshire."
Dr Peter Jemmett, Managing Director at ETL, part of the international Etienne Lacroix Group, said:
"This advanced technology is a game-changer for tactical operations, giving breaching teams improved logistical capabilities and increasing operational effectiveness while reducing risk.

"We are grateful to Ploughshare Innovations for their assistance that has allowed us access to this Dstl innovation. It will strengthen our portfolio further and will enable us to deliver capability to a wide range of defence and homeland security users."
Hetti Barkworth-Nanton, CEO of Ploughshare Innovations, said:
"We are delighted to be playing our part in bringing this technology to market. It is a prime example of our commitment to working with innovative companies to bring the results of Government research to market for the benefit of UK businesses and to deliver capability to our defence and security services."
The technology licensed to ETL is one of more than 125 licensed to companies since Ploughshare Innovations was founded to enable businesses to gain access to defence and security technologies developed by leading government laboratories. Find more information on our Ammunition page https://www.energetics-technology.com/products/ammunition-2

Related information
---
New Product Release – April 2021
New Threat Mitigation Units with Internal Shelving – IU1700 Series
Formally UN approved for 1.4S for up to 500gs of High Explosives.
Designed to accommodate all courier 25kg boxes (FedEx, UPS, DHL), the IU1700 series revolutionises the rapid and safe isolation and removal of IED threats in high volume screening operations, meeting the demanding needs of global couriers during international cargo screening. IU1703 and IU1704 models have left or right opening doors, and include fully lined SABREMAT (TM) drawers to act as storage units for your EOD's or laboratory samples.
IU 1700 = Large internal capacity with optional pull out trays.
NEW MODELS
IU 1704 = 2 Drawers. Each drawer has four chambers, tested to 250g explosives.
IU 1703 = 1 Drawer. A single chamber tested to 500g explosives.
New Product Release – January 2021
TC95 Blast Resistant Litter Bin / Trash Receptacle – Lid
New Product Release – December 2020
Lead Free Actuators
NEW – COMPLETELY LEAD FREE ACTUATORS
-High Power Output
-High Reliability
-Class 1 exempt (not dangerous goods)
-Force up to 4kN
-No Lead containing alloys
A range of characteristics including:
-1 amp / 1 watt / no fire
– 1 amp / all fire
-.75 amp / all fire
Finished with various cables and connectors.
Corrosion resistant with high strength stainless steel components.
Used for: gas bottle rupture, fire extinguisher activation, pyro mechanical switches, safety and alarming mechanisms.
Size range: 3.5mm stoke smallest to 10mm stroke largest.
---
New Product Release – November 2020
25mm Pyrotechnic Cable Cutter…..
Pyrotechnic 25mm cable cutter, electrically fired. Milli-second action time. Hardened steel blade easily cuts dyneema rope and steel cables up to 25mm diameter.
New design has side entry with retaining collar to secure target and prevent accidental release. Ultra reliable, extreme performance
---
CPNI features ETL Blast Resistant Litter Bins..
The CPNI (Centre for the Protection of National Infrastructure) have a freshly designed new Catalogue of Approved Security Equipment. The Catalogue (CSE) is available to help security practitioners to identify appropriate physical security equipment….these products have been evaluated against specific CPNI security standards and the performance rating achieved.
Four of ETL's Blast Protection Litter Bins listed: Halo 80, Halo 80 Plus, Halo 80 Plus Base Form and the TC95. Click the link below to go to the CPNI Catalogue page…
https://www.cpni.gov.uk/cse-categories/litter-bins
For further information, please contact us on 01238 732339 / enquiries@energetics-technology.com
---
New Product Release..
July 2020
Newly Developed – High Temperature ACTUATOR.
Stainless steel construction and designed for the harshest environments. High temperature models capable of operating at temperatures up to 220°C. Designed for deep well drilling systems and similar extreme environments. Contact our Sales team on 01238 732339 / enquiries@energetics-technology.com
---
February 2020
ETL announces the release of its EOD Forensics Recovery Kit assisting technicians in the safe recovery and transport of samples.
The kit contains: –
AMT Mini Det pouches for the safe handling of detonators
AMT det pouches for the safe isolation of detonators with explosive remnants attached
DCU560 flasks for the safe storage and transport of up to 6g explosive per flask
DCU560 container for safe storage and transport (1.4S) of all samples recovered
Pyrotechnic cable cutters and actuators for remote cutting of IED circuits
Sample vials, wire cutters, and scalpel hand tools
---
FUTURE EVENT ATTENDANCE
NOW CANCELLED
ETL products will have a presence at the French Air and Land Defence show EUROSATORY in June 2020. – PARIS.
---
---
Energetics Technology Ltd (Etienne Lacroix Group) showcased at DSEI 2019 | 10 – 13 September, London : Stand N9-383
About DSEI 2019
DSEI is the world leading event that connects governments, national armed forces, industry thought leaders and the global defence & security supply-chain on an unrivalled scale.
Organized around five key domain / focused Zones (Aerospace, Land, Naval, Security & Joint Zones), this event is one of the best place to discover all the latest equipment and systems for Defence or Security in the European Area.
More information about DSEI can be found here https://www.dsei.co.uk/
From September 10th to 13 at Excel London, DSEI gave us the opportunity to tell you more about the various areas and expertises of our numerous entities: self-protection for Defense, anti-blast solutions & mineboots, Law Enforcement devices, Packaging solutions for the Armed Forces, etc…
Product and Subsidiaries Focus :
Anti-blast solution with ENERGETICS Technology Ltd
Acquired by Etienne Lacroix group at the end of 2018, Energetics Technology Ltd design, test and manufactures blast protection products, but also detonator containment storage and transport solutions for police, army, special forces, EOD teams and mining.
During DSEI 2019, Energetics Technology Limited focused on Isolations Units, (including blast mitigating and bomb resistant litterbins, trash cans and suspect package isolation units used widely in airports…), but also on anti-blast panel solution, using the stunning SabreMat composite technology. More information about our anti-blast range of products: https://energetics-technology.com/products/litter-bins
---
DSEI Video Footage – ETL Managing Director, Dr.Peter Jemmett was interviewed at the exhibition.
ETL featured on Day 3 for the Army Recognition editorial team at DSEI. Army Recognition is one of the most popular online defense and security magazine, a subdivision of Army Recognition Group. As Official Media Sponsor of the Land Zone of DSEI 2019, they provide Online Show Daily News and Daily Web TV about activities and latest news about DSEI 2019.
---
Packaging & dedicated cases for the Armed Forces with CIRRA Packaging :
CIRRA Packaging is an importer and distributor of waterproof and dust-tight cases, small cases, flight cases, shipping cases, etc. destined for all sectors, among which are defense and the Special Forces.
Its expertise in digital and die cutting of foam inserts enables CIRRA to provide comprehensive solutions: transport cases and storage cases for weapons, drones, radio communication equipment, very expensive equipment, etc.
Among its specialized cases for the defense and security sectors, which were showcased during DSEI, the waterproof PELI case stands out to store soldier's HK 416 rifles and the PELI Storm case to store military personnel's walkie talkies, transport case for drones (UAV, ROV, USV…)
For more information about our solutions please click here
Pyrotecnics Systems dedicated to self protection : LACROIX Defense
LACROIX provides Armed Forces in France and abroad with a complete range of self-protection pyrotechnic systems and training devices for aeronautic, land and naval applications.
During DSEI 2019, LACROIX featured :
---
its new training systems for Air Forces: Manpads simulator (similar to SMOKEY SAM), Testing electronic counter-measures,
latest, cutting-edge airborne counter-measures solutions and especially its specific series dedicated to the A400M
its Soft Kill self -protection system (GALIX AOS suite) to protect current and future vehicles against enemy threats(in the visible and infrared (IR) domains).
More http://www.lacroix-defense.com/about-us.php
*Source official PR from the Organizer
---
ETL Past Events
February 2020
We were delighted to attend the International Federations Summit 2020 in Lausanne with our Colleagues from CIRRA – Etienne Lacroix GROUP . Organized by Major Events International Ltd , this congress was a great opportunity to meet more than 50 Sports Federations ! In these uncertain times, we were eager to discuss and introduce our range of blast resistant litter bins & blast mitigation units to enhanced safety in public arenas and stadiums.
For those who where attending the International Federations Summit 2020 in Lausanne, discover our Portofolio of Anti-Blast solutions for SportStadiums, Arenas (inside & outside) and many Public Areas. In these uncertain times, we are eager to promote our range of blast resistant litter bins & blast mitigation units to enhanced safety in public arenas, transport hubs & airports, Shopping centres etc ….
February 2020
Many thanks to the organizers Major Events International Ltd / Dennis Mills and his staff & to the World Archery Federation Excellence Centre for their hospitality & demo. ENERGETICS TECHNOLOGY LTD & the CIRRA team enjoyed taking part in the summit which lasted during 2 days, gathering further business links within the international federations and partners. We were also very honoured with the presence & talk from AttilaMizser , olympic gold medal in pentathlon ! It is our pleasure to share a few pics form the convention , enjoy !
February 2019
Energetics Technology Ltd were at IDEX: the International Defence Conference (IDC) 2019, held 14 to 16 February at Emirates Palace Abu Dhabi, Participating with over 1,200 other global defence specialists.
March 2019 :
Energetics Technology Ltd were at the 2019 Security & Policing Home Office Government Show 5-7th March. Security & Policing 2019
PPE100 Mine Boots Endorsement
July 2019
Energetics Technology Ltd (ETL) has recently supplied its PPE100 Mine Boots to the Pakistan Frontier Corps. The boots provide protection to de-mining teams working to clear anti-personnel mines from the regions around Pakistan's borders. The PPE100 boots were chosen after comprehensive testing proved the boots performance against surrogate anti-personnel mines. Typical requirements of mine boots are that they must be a rugged, durable boot that does not impede mobility in all types of terrain (mountains, plains, desert and desert terrain). In addition, the boots need to ensure mobility to the user whilst under fire, standing, kneeling, sliding or crawling. Typically, the user should be able to flex and curl the toes, arch the foot and the boots should provide good ankle movement to the user. The boots typically need to be able to be put on and taken off quickly and simply, and generally be comfortable to wear over extended periods.
The PPE100 Mine Boots protect against several specified mine types, out-performing competitor products. See table below: –
The Mine Boots are supplied with gaiters which are worn to add further protection to the user. The following communique was received by a senior officer regarding ETL's PPE100 Mine Boots.
---
ARCHIVE NEWS
Gatwick Airport – Halo 80 Litter Bin on the new departure level 2016
A Halo 80 Litter Bin is featured in an article about Gatwick Airport in Issue 1, 2016 of the International Airport Review magazine. See our product in the "Passenger Flow" supplement on page 8. The new passenger departure level at Gatwick Airport has had a huge investment to transform the passenger experience. It will become the worlds largest self-service bag drop zone, and Energetics products form part of the security infrastructure.
New AMT Detonator Pouch – available April 2016
We are now launching our latest innovative product, the AMT Detonator Pouch.
The product has been developed specifically for IED / OED teams following feedback from visitors and clients to our exhibition events. This new AMT detonator pouch enables the detonator and any residual explosive to be isolated during the disarming process. The AMT detonator pouch also reduces the hazard class of a recovered detonator from 1.1B to 1.4S* (BAM Cert pending) during transport.
The product will be available mid April 2016 following certification and will be launched at 'Security & Counter Terror Expo 2016' stand A16 .
The AMT detonator pouch is an exciting addition to our expanding production range. Further information available on request.
New Litter Bin protection standard
Energetics are soon to release a 10 Star rated litter bin which will provide the highest level of public protection possible. For further details contact the sales team. To enable easier design and simulation of projects utilising blast protecting bins. Please contact us directly for more information.